Blog
---
Copper Prep
November 24, 2017
Studio work is not always glamorous. Here is a process I use to prepare the copper before I make my flowers and feathers. It's called annealing. Basically I'm heating up the metal to red hot and then cooling it off in cold water quickly to make the copper more pliable to work with. This process separates the molecules of the copper making it easier to manipulate, and as you hammer the metal, it moves the molecules back together and makes it hard again.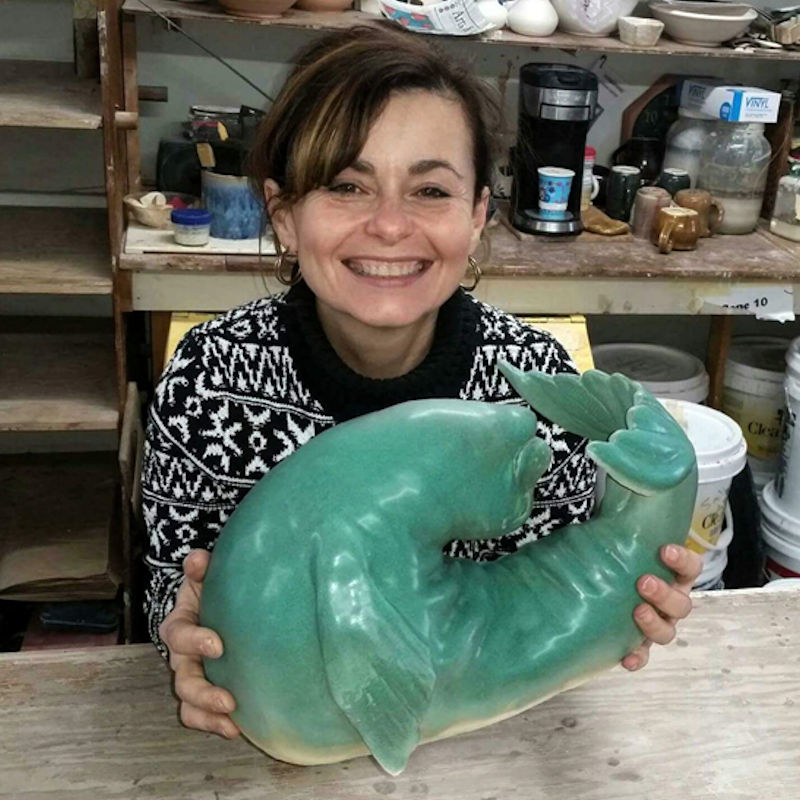 A new website and holiday cheer!
Warmest Seasonal Greetings to you!

I am excited to share my new website with you! What do you think? I am so proud of the job that InnoTech LLC of Pawcatuck, CT has done to create this site for me to bring my work and projects to you. It has been a lot of hard work pulling all this together, but now we can enjoy the fruits of all this labor.

Please stop back often to hear about what is going on at the studio and on the road. With this blog, I hope to give you some insights into my working methods and keep you informed of important events and openings. I am delighted to begin this journey with you!

May you open your heart to the magic of the season!
Memberships & Affiliations
Academic Artists Association, Springfield, MA
Alexy Von Schlippee Gallery, UCONN, Avery Pt. CT
Allied Artists of America, NY, NY
American Artists Professional League, NY, NY
American Society of Marine Artists, St Louis, MO
Artists Cooperative Gallery of Westerly, Westerly, RI
Catherine Lorillard Wolfe Art Club, NY, NY
Connecticut Academy of Fine Artists, CT
Cooley Gallery, Old Lyme, CT
Copley Society of Art, Boston, MA
Courtyard Gallery, Mystic, CT
Florence Griswold Museum, Old Lyme, CT
Gallery 121, Stonington, CT
Hygienic Art Gallery, New London, CT
Lemon Tree Gallery & Studio, Cape Ann, VA
Lyme Academy College of Fine Arts, Old Lyme, CT
Lyme Art Association, 90 Lyme St., Old Lyme, CT
MASS MoCA, North Adams, MA
Mystic Museum of Art, 9 Water St., Mystic, CT
National Sculpture Society, NY, NY
New Britain Museum of Modern Art, New Britain, CT
Newport Art Museum, Newport, RI
Salmagundi Club, NY, NY
Society of Connecticut Sculptors, CT
South County Art Association, North Kingstown, RI
Vermont Carving Studio, East Rutland, VT

Collections
Andrea Restaurant, Misquamicut, RI
Children's Museum of Southeastern CT
Don Mann, SEAL Team SIX Commando & NY Times Best Selling Author
Great Lodge at Arctic Watch, Somerset Island, Nunavut
Ledyard Police Department, Ledyard, CT
Mystic Marriott, Groton, CT
Pequotsepos Nature Center, Mystic, CT
Pfizer Chemical, Groton, CT
Pleasant View Restaurant, Misquamicut, RI
Private Collections throughout the Northeast, England and Ireland
Raiche Realty, Westerly, RI
Renovations to Rentals, Westerly, RI
Salmagundi Club
Westerly Animal Hospital, Westerly, RI
Westerly Animal Shelter, Westerly, RI
Westerly Public Library, Westerly, RI
Zoe & Co. Lingerie, Westerly, RI

Education
LYME ACADEMY COLLEGE OF FINE ARTS
OLD LYME, CT 1985 - 1995
CONCENTRATION IN FIGURE DRAWING, PAINTING, ANATOMY AND SCULPTURE

RHODE ISLAND SCHOOL OF DESIGN
PROVIDENCE, RI 1990 FRAMING

SMOOTH ON INDUSTRIES
EASTON, PA FEB 2002
MOLD MAKING AND RESIN CASTING

KANE SCULPTURE STUDIO & FOUNDRY
PAWTUCKET RI 2005 - 2008
INTERNSHIP FOCUSING ON MOLD MAKING, WAX WORK FOR LOST WAX CASTING AND PATINATION

SOUTH COUNTY ART ASSOCIATION
N. KINGSTOWN RI 2015 - 2017
CONCENTRATION IN CERAMIC SCULPTURE AND ALTERNATIVE FIRING METHODS

Awards
109th ANNUAL SALMAGUNDI THUMB BOX
Dec 8 - Dec 31, 2017
Salmagundi Club, New York, NY
"Hello Dolly" Alpheous P. Cole Award

SOCIETY OF CONNECTICUT SCULPTORS ANNUAL MEMBERS EXHIBITION
Oct 1 - Nov 29, 2017
LYME ART ASSOCIATION, Old Lyme, CT
"Head Over Heels" People's Choice Award

AMERICAN ARTISTS PROFESSIONAL LEAGUE 89TH ANNUAL GRAND NATIONAL EXHIBITION
Oct 20 - Dec 29, 2017
Online Exhibition NEW YORK, NY
Jurors David A. Leffel, Sherrie McGraw, Jacqueline Kamin
"Survivor" Helen G. Oehler Memorial Award

View all Awards
Exhibitions
CATHERINE LORILLARD 121st ANNUAL OPEN EXHIBITION
Jan 8 - Jan 26, 2018
NATIONAL ARTS CLUB, 15 Gramercy Park South, NY, NY

109th Annual Thumb-Box Exhibition
Dec 4 - Dec 31, 2017
SALMAGUNDI CLUB 47 Fifth Avenue, New York, NY

GIVE ART THAT GIVES BACK
Nov 25 - Dec 30, 2017
GALLERY 12, 121 Water St, Stonington, CT

View all Exhibitions
Teaching
MY STUDIO
GROUP AND PRIVATE LESSONS IN OIL, PASTEL, DRAWING, SCULPTURE AND MOLDMAKING

MYSTIC MARINELIFE AQUARIUM
MYSTIC, CT

MYSTIC MUSEUM OF ART
MYSTIC, CT

HOPE VALLEY ELEMENTARY SCHOOL
HOPE VALLEY, RI